Beachfront News
Beachfront Wins Best Connected TV Platform at 2023 Digiday Video & TV Awards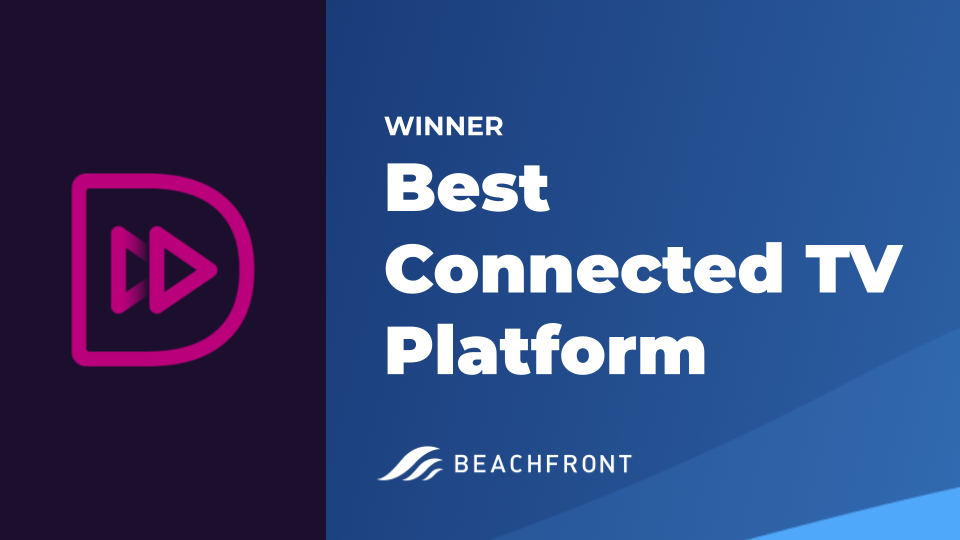 Beachfront's award-winning ad serving tech is helping media sellers and buyers navigate the evolving connected TV (CTV) landscape.
Each year, the Digiday Video & TV Awards recognize the companies, campaigns, and technology modernizing the video and TV ecosystem. This year, Beachfront is proud and honored to have been named the winner of "Best Connected TV Platform," for its work solving critical challenges within the CTV advertising industry.
Over the past several years, the television industry has experienced a tremendous amount of change, driven largely by significant growth in CTV. Amid these changes, the need for better, more TV-centric ad tech in streaming environments has become paramount. Through its sell-side ad serving technology, Beachfront has brought critical advancements to the CTV ecosystem, unlocking key benefits for both media sellers and buyers.
For CTV platforms and streaming services, these benefits include the ability to:
Optimize CTV ad revenue by servicing and unifying direct-sold, private marketplace (PMP), programmatic guaranteed (PG), and open auction demand.
Enhance CTV ad inventory with configurable settings for ad pods and slots, including key business rules like competitive separation.
Deliver pristine ad experiences to viewers by controlling for ad duplication, frequency, and creative wearout.
For advertisers and brands, these benefits include the ability to:
Easily buy premium, directly-sourced CTV inventory from leading streaming services and CTV platforms.
Contextually-target specific types of programming based on key metadata insights, including - as examples - genre, network, and show.
Unlock streamlined reporting for CTV campaigns with unique insight into the contexts and shows in which ads were delivered.
The Beachfront team is immensely grateful to receive this distinction, and to work every day with leading media owners, programmers, and distributors who are actively moving the CTV advertising industry forward.
More information on Beachfront's recognition can be found on Digiday, and an excerpt from the award catalog is included here:
Background: As growth in CTV and streaming speeds up and declines in traditional TV consumption stabilize, new challenges arise for media buyers and sellers who wish to navigate both mediums. Addressing these challenges, sell-side ad server Beachfront has developed TV-centric ad infrastructure for CTV environments adding greater automation to the buying and selling of TV advertising. Media owners, programmers, and distributors use Beachfront's sell-side ad server to optimize ad revenue, increase operational efficiency and deliver pristine viewer experiences across the convergent TV landscape.

Insights: Beachfront's technology has allowed a growing number of TV programmers — including AFRO TV, EPIX, It's Real Good TV, Kabillion, ToonAVision and TV One — to unify ad serving and monetization across disparate TV endpoints. It also helped Dish Media automate and build flexibility into its ad-buying system. Beachfront recently juggled multiple tasks for an international media owner operating in LATAM and the U.S., helping them move into programmatic monetization for CTV while solving critical limitations related to ad podding.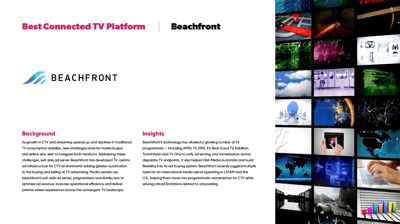 If you are interested in learning more about Beachfront's award-winning connected TV platform, please reach out to us here:
---