Beachfront News
Kroger Precision Marketing Taps Beachfront to Power CTV Private Marketplaces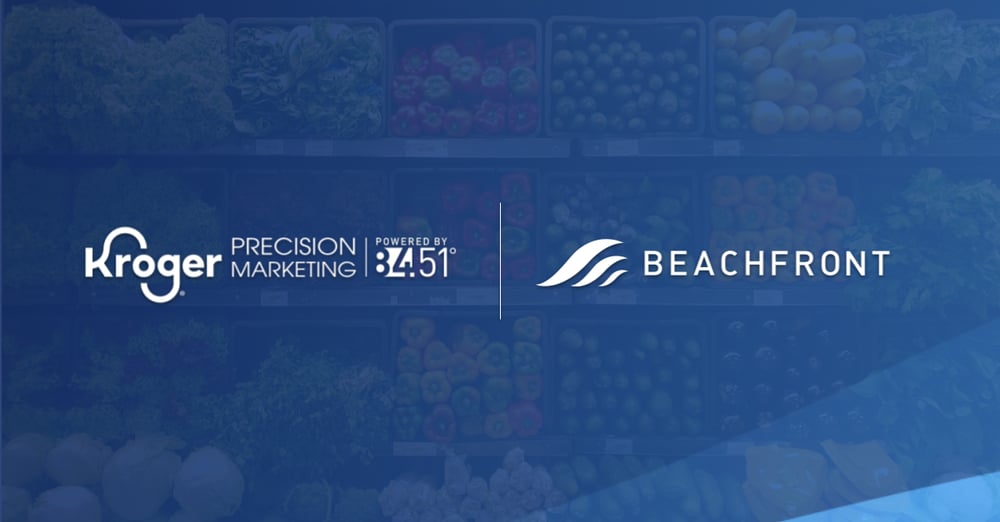 Beachfront's premium connected TV (CTV) and online video (OLV) ad inventory is now available for real-time buying within Kroger's self-serve retail media platform.
Retail media is having a banner year. Ad spend and interest in the medium is surging, and a plethora of new services have been introduced in recent months. Brands such as Ulta Beauty, Marriott, and Dick's Sporting Goods (as just a few examples) have all thrown their hat in the ring in building out a media network alongside the likes of Kroger, Walgreens, and Walmart.
With highly-valuable first party data and evolving suites of advertising solutions, Retail Media Networks are enabling brands to develop deeper marketing connections with shoppers and more accurately attribute sales impact on the backend. It's easy to see, then, why retail media advertising is set to eclipse more than $60 Billion in annual ad spend by 2024.
Historically, display and search executions have dominated the space, but in recent months, Retail Media Networks have moved swiftly into more premium formats like CTV. The ability to leverage the big screen allure of television, with the targeting and attribution capabilities of digital, provides retailers and commerce brands with a compelling value proposition in moving spend into CTV and streaming environments.
Illustrating this accelerated shift, Kroger Precision Marketing recently announced the addition of CTV and video advertising to their private programmatic marketplace, tapping Beachfront as a key supply partner. The launch comes as "advertiser interest — particularly CPG advertiser interest — in CTV is growing quickly," notes AdAge's Jack Neff.
At Beachfront, we're delighted to be working with Kroger to power their CTV private marketplaces. Through Kroger's self-serve retail media platform, CPG brands and agencies are now able to use sales data from Kroger's retailer loyalty program to reach targeted households across premium CTV and video inventory from Beachfront.
More specifically, the partnership and related offerings will help advertisers:
Access brand-safe CTV and video inventory in a centralized private marketplace.
Reach relevant CTV and video households with valuable audience intelligence supported by retail sales data from Kroger.
Measure ad campaigns against attributable retail sales metrics and household penetration.
Interested in activating ad campaigns across premium CTV inventory from Beachfront through Kroger Precision Marketing? Please contact us here:
If you'd like to learn more about how retail media is helping brands fly on CTV, check out this video interview featuring Halli Goddard, Head of Advanced TV at Kroger Precision Marketing: