Beachfront News
Life at Beachfront: Marketing Intern Courtney Killwey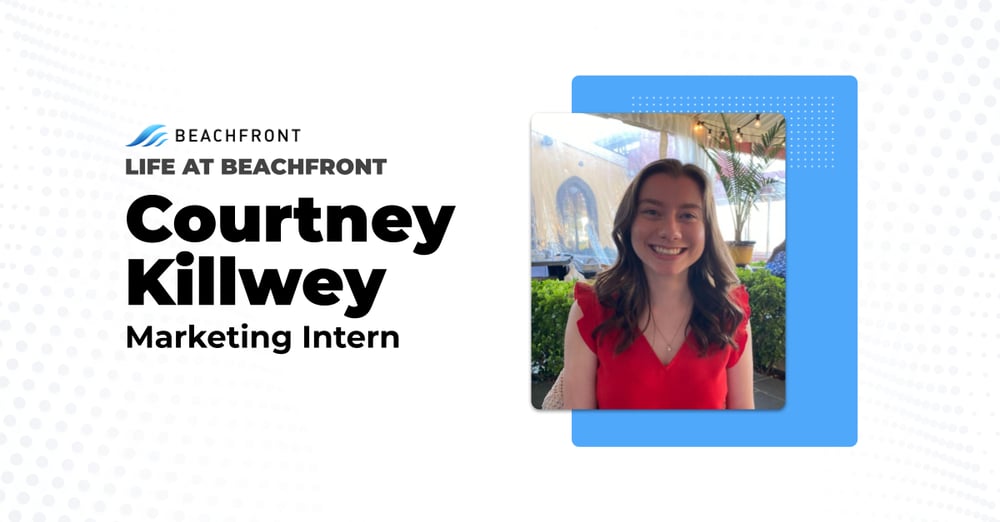 The first installment of our "Life at Beachfront" Series features Summer Marketing Intern, Courtney Killwey.
The "Life at Beachfront" Series provides an inside look into what it's like working at Beachfront, through the eyes of our fantastic colleagues and teammates.
Today's featured team member is Courtney Killwey, who recently completed a summer marketing internship with Beachfront. During her time with Beachfront, Courtney assisted with the planning, management, and execution of key marketing campaigns and core business initiatives — from strategic ideation to tactical execution. She is currently streaming This Is Us, and in her free time she likes to read. Courtney loves going to concerts and can't wait until she can see all of her favorite artists live!
Here's more on Life at Beachfront from Courtney:
What was your favorite part of working at Beachfront this past summer?
I loved how every day at Beachfront was unique and exciting! There was never a dull moment while learning new things about Beachfront's partners, the TV and ad tech industry, and marketing in general. Throughout the summer, I was able to work on a multitude of impactful projects. I was constantly looking forward to the various challenges and tasks that each week would bring.


What projects did you enjoy working on the most?
Two of my favorite projects I worked on were redesigning the Careers page on Beachfront's website, and launching a Google Ads search campaign to drive website traffic. Both of these projects allowed me to be creative and apply the skills I have learned in my marketing courses. It was extremely rewarding to see my ideas come to life and produce positive results.


What was one of your biggest takeaways from the internship?
A huge takeaway has been the complexity of the ad tech industry. There is so much to learn regarding the industry as a whole and how Beachfront is contributing to its simplification and growth. Each member of the team plays a crucial role in helping to drive the TV industry forward.


What did you like most about the company culture and team?
The collaborative and welcoming environment at Beachfront made for a great internship experience. Not only does the team care about their work, but they also care about each other. Everyone is quick to lend a helping hand, offer advice, and encourage one another both professionally and personally.


What was the most interesting thing you learned this summer?
One of the most interesting things I've learned has been the speed at which ads are executed within the TV industry. It has been exciting to gain insight on the elaborate inner workings and operations of the industry.


What was a highlight of your summer internship?
Meeting the team in person for the first time at a company barbecue was one of my favorite memories from the summer. While my internship was fully-remote, it was great to have the opportunity to get to know the team outside of work.
Interested in learning more about Beachfront and joining our team? Learn more and explore new opportunities here:
---