Beachfront News
Industry Insights
Building on Prebid Brings Numerous Benefits to CTV Publishers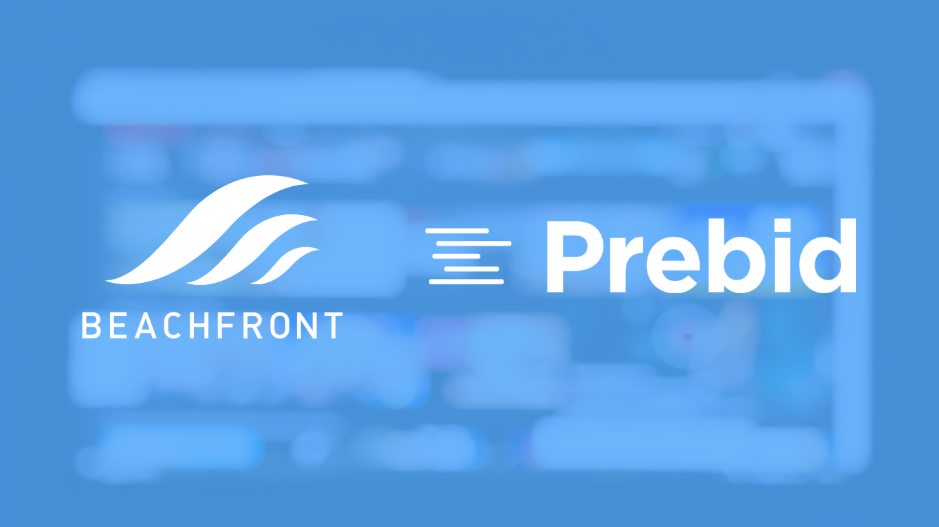 ---
In late April, we introduced our new Pod Bidding solution for CTV to help premium video publishers better manage their ad pods, optimize fragmented demand sources and improve viewer experiences. As you may have seen, we chose to build Pod Bidding on Prebid — an open source software suite that's "designed to ensure and promote fair, transparent, and efficient header bidding across the industry."
Our decision to build on Prebid was an easy one, because it addresses key monetization challenges while putting control back in the hands of media owners. We know that, while CTV growth is surging, most publishers aren't satisfied with the monetization solutions available to them — nor the accompanying controls and transparency (or rather lack thereof).
Fill rates for CTV can be challenged, as publishers often don't have the unfettered access to demand that is needed to drive bid activity. Viewer experiences are also difficult to control in an efficient manner, while creative wearout looms as a pressing issue. More broadly, the CTV ecosystem remains a black box for many media owners — making it unnecessarily difficult to uncover and optimize yield.
To solve these challenges and to capitalize on the opportunities that CTV is promising, premium video publishers need unfettered, unified access to demand, more sophisticated yet intuitive controls within ad breaks, and greater transparency when it comes to their ad tech and auction mechanics.
By building on Prebid, Pod Bidding helps to meet these needs:
Unfettered, Unified Access to Demand.
Right off the bat, one of the key benefits of Prebid lies in it's adoption. Prebid software is used by an extensive number of adtech players, many of whom have Prebid Adapters in place that support seamless integrations into those players' demand ecosystems. This means that, in using Pod Bidding, media sellers can quickly light up large swaths of demand, while adtech companies can maintain key relationships they have with these publishers.
Beyond Prebid Adapters, however, we know publishers curate demand from other sources and rely on delivery executions outside of Server-to-Server (S2S) integrations. This includes direct Deal IDs and PMPs facilitated via RTB 2.5, along with ads delivered via a traditional VAST tag.
In order to drive stronger yield, it's critical for publishers to support decisioning across all of these disparate demand sources — and this notably includes unpacking the "black box" that is VAST demand. Pod Bidding not only helps to optimize fragmented demand along these lines; it also provides much-needed transparency into VAST and offers sophisticated tools that fully-support slot-based optimization, ad deduplication, competitive separation and prioritization (such as programmatic guaranteed, reserve buys, "always on" deals and/or first-look).
More Intuitive, Sophisticated Controls.
As CTV increasingly moves to programmatic, publishers are demanding more control over their programmatic infrastructure and their ad pods. When it comes to infrastructure, Prebid provides a technical foundation that media owners can fully own and manage. It's a free and open source software suite, so users can set up their programmatic pipes and connect to sources of demand without necessarily relying on an ad tech partner.
In terms of controlling CTV ad pods, this is where Pod Bidding comes into play. Our robust inventory management tools are built on top of Prebid, so publishers retain control over their pipes and tap Pod Bidding to build and auction their ad pods based on key dimensions. This includes key buyer relationships, desired margins, auction type, ad duration, price floors on a slot-by-slot basis...the list goes on.
The point being: Publishers are seeking more control of their ad tech — and Prebid provides the base infrastructure while Pod Bidding enables more sophisticated management of the decisioning engine around ad pods.
Greater Auction Transparency.
In addition to seeking more control of their adtech, media owners are asking for more visibility into their auction mechanics and the ads that are brought into their ecosystem. CTV auctions have long been viewed as a black-box, and publishers can be subject to undisclosed bid biasing, hidden fees or creative duplication.
Knowing that transparency is key for facilitating greater trust in the ecosystem and for driving CTV forward, we built Pod Bidding to give publishers full visibility into their auctions. Granular details and extensive error reporting illuminate all activity down to the log-level, so users can easily identify and mitigate delivery errors, while addressing any nefarious behavior.
More demand. More control. More transparency.
Building our Pod Bidding solution on Prebid was an easy decision -- because it helps to solve many of the monetization challenges today's publishers are facing.
---
As we move forward in 2020, we are working closely with CTV publishers to build the Pod Bidding solution the industry deserves. If you're interested in learning more or scheduling a demo, please contact us here: