Beachfront News
Beachfront Receives TAG Recertification Against Fraud for Fourth Straight Year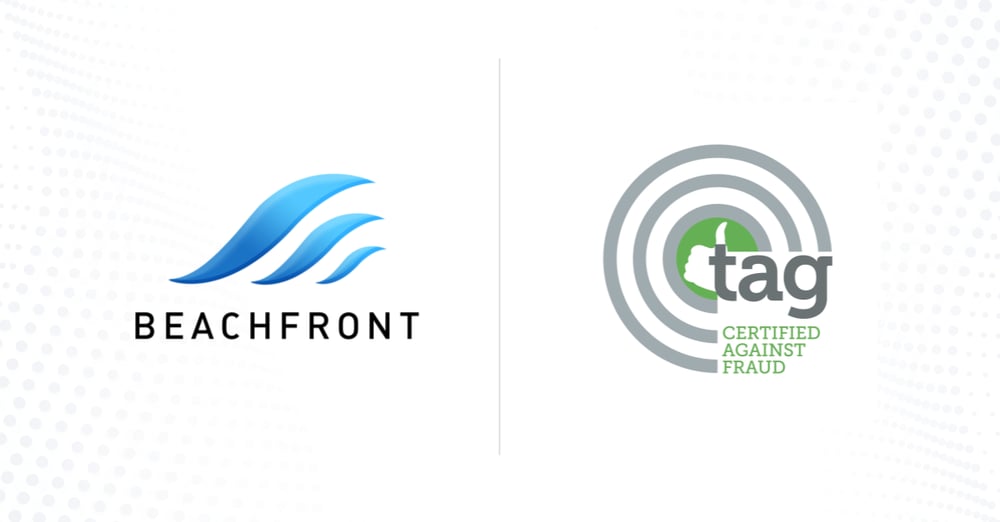 Recertification underscores Beachfront's rigorous and ongoing commitment to mitigating fraud, ensuring quality, and increasing transparency in programmatic advertising.
We are delighted to share that, for the fourth year in a row, Beachfront has earned Recertification for the Trustworthy Accountability Group's (TAG) Certified Against Fraud program! The record number of awarded recertifications were announced by TAG on Thursday, March 3rd, and featured companies from across the supply chain on a global scale.
"We are delighted to recognize Beachfront for achieving the rigorous standards necessary for TAG certification," said Mike Zaneis, CEO, TAG. "By adopting TAG's industry best practices, Beachfront has demonstrated its strong commitment to the safety of its partners and the digital advertising ecosystem. We look forward to continuing to work with Beachfront to raise the bar for other companies to build a safe, transparent, and accountable supply chain."
More information on TAG, this year's recertification, and Beachfront's continued commitment to supply chain quality and transparency can be found below.
TAG & The Certified Against Fraud Program
The Trustworthy Accountability Group (TAG) is a leading global initiative focused on increasing trust and fighting criminal activity within the digital advertising industry. Created by the American Association of Advertising Agencies (4A's), Association of National Advertisers (ANA), and Interactive Advertising Bureau (IAB), TAG boasts over 700+ collaborative member companies that span brands, agencies, publishers and ad tech providers (including Beachfront!).
TAG's Certified Against Fraud program was introduced only a few years ago, with a focus on identifying, combating, and mitigating invalid traffic at every step of ad campaigns. Companies that abide by the Certified Against Fraud guidelines each year are awarded a seal as part of the program. "By encouraging legitimate participants in the digital advertising supply chain to meet these standards," states the TAG website, "the TAG Certified Against Fraud Program has been shown to be an effective tool in reducing fraudulent invalid traffic in the digital advertising supply chain."
(Re)certification Process
To receive initial certification and subsequent recertifications, companies in media and advertising must meet a series of criteria and qualifications to demonstrate compliance with Certified Against Fraud Guidelines. These include:
Employing robust invalid traffic (IVT) detection and removal, along with threat and list filtering across domains, apps, and data center IPs.

Implementing and supporting TAG-approved chain of accountability solutions with relevant supporting logs. This includes the SupplyChain object, Sellers.json, and the TAG Payment ID System.

Honoring ads.

txt and app-ads.txt

, the IAB Tech Lab openRTB standards designed to fight against fraud and misrepresented domains or applications, including those distributed through mobile and connected TV app stores.

Maintaining continual and robust internal audits to assure traffic quality

Designating a TAG compliance office, who must attend updated training courses throughout the year.
Beachfront has proudly met and exceeded these evolving guidelines and related standards for the past four years.
Beachfront's Commitment
This recertification further underscores Beachfront's rigorous and ongoing commitment to mitigating fraud, ensuring quality, and increasing transparency across the programmatic advertising ecosystem.
To ensure high-quality, brand-safe advertising environments for clients, Beachfront provides a multifaceted fraud detection and prevention suite through partnerships with ad verification providers HUMAN (formerly known as WhiteOps) and Moat.
Similarly, Beachfront provides media buying partners with full log-level transparency that includes campaign CPMs, bid requests, fill rates and take rates — including publisher-specific take rates. These real-time insights allow advertisers to evaluate performance across individual brands to better understand why bids are won or lost.
Lastly, Beachfront is an active member of the HUMAN Collective.
More resources
To learn more about the Certified Against Fraud program and to view Certified Partners, please visit the TAG website and check out their latest announcement.
If you are interested in learning more about Beachfront, please contact us here: