Beachfront News
Beachfront Awarded Recertification for TAG's Certified Against Fraud Program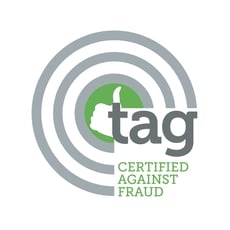 ---
We're excited to share that, for the second year in a row, Beachfront has been awarded recertification for the Trustworthy Accountability Group's (TAG) Certified Against Fraud Program. Announced by TAG on Thursday morning, this recertification underscores our continued commitment to fighting invalid traffic, fraud and criminal activity within digital advertising.
"As the media ecosystem as a whole continues to evolve, it's never been more paramount for the industry to collectively fight against fraud and improve transparency." said Mike Zaneis, CEO of TAG. "We commend Beachfront for achieving TAG seal recertification and for their dedication to building a safer, more transparent ecosystem for media buyers and sellers to transact on premium video inventory."
As an independent video ad management platform, Beachfront is focused on driving greater quality and transparency across the supply chain. Via our partnerships with leading ad verification providers Moat and WhiteOps, we help advertisers protect their investments from even the most sophisticated forms of invalid traffic and fraudulent activity.
Similarly, our new Transparency Portal, which is currently available in beta, provides visibility into all campaign CPMs, bid requests, fill rates and take rates — including publisher-specific take rates. These real-time insights allow media buyers to evaluate performance across individual brands to better understand why bids are won or lost across supply partners.
"Our partners on the demand-side are seeking more advanced controls for ensuring quality delivery, and more tools for enabling greater transparency across the supply chain." said Silvia Abreu, head of product at Beachfront. "We're incredibly proud to receive this recertification from TAG for their Certified Against Fraud program, and we look forward to continuing to provide our advertising partners with real-time transparency into ad delivery while helping them avoid issues with fraud and brand safety."
For more information on TAG's Certified Against Fraud program, please visit here.
To learn more about Beachfront's ad verification partnerships or transparency portal, please contact us here: