Industry Insights
2022 in Review: Three Key Takeaways from the Year in Convergent TV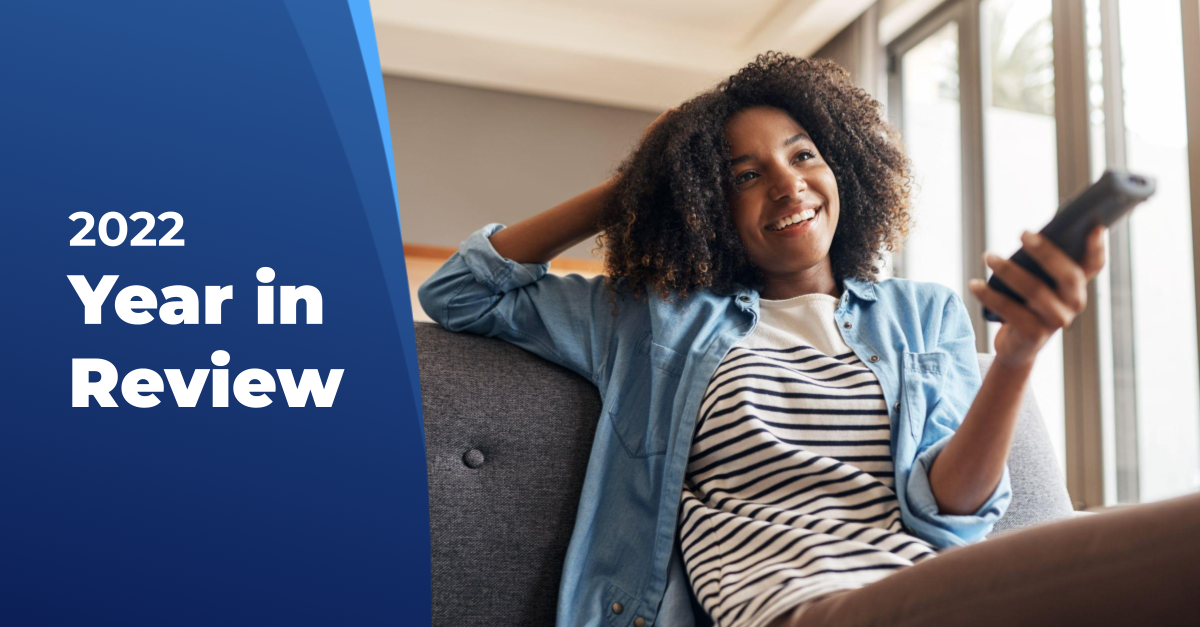 The TV advertising industry experienced another year of transformative change and unprecedented disruption in 2022.
2022 was another year of transformative change in TV advertising.
Connected TV continued growing at a red hot pace. New entrants (including some big names!) entered the ad-supported streaming market. Viewership on FAST services increased. The ad experience in CTV continued to improve. A paradigm shift in TV ad sales strategies began to set in. And convergent TV really took hold in our industry — across media, ad tech, data and measurement — among so many other things.
Reflecting on all of the meaningful advancements and major headlines that 2022 has brought, we've compiled our top three takeaways from the year, with an eye toward 2023:
1) Interoperability has taken center stage: traditional TV and connected TV advertising are finally converging.
Over the last few years, viewership from traditional TV has been gradually shifting towards streaming. This past July marked a key milestone, with Nielsen's monthly viewership report revealing for the first time that streaming had eclipsed cable in terms of time spent viewing.
While the watershed moment had many proclaiming the death of traditional TV as we know it, the reality isn't as cut-and-dry as it may seem. Yes, streaming is and will continue to grow, but cable and broadcast TV
together
(i.e. "traditional") still account for the lion's share of time spent watching TV, at roughly 60% in October. Looking at
ad spend
, linear TV is projected to hold steady at $60B+ through at least 2026 in the U.S., with CTV serving as an area of sustained growth that will push
combined
TV spending north of $100B over the next four years.
These trends and supporting data signal that the era of convergent TV is fully-upon us, and the need for interoperability in our industry has never been more critical. With various screens, transaction protocols, and measurement standards, the TV industry is beset by fragmentation, which has made it all the more challenging for advertisers and programmers to efficiently buy and sell TV media.
Solving for this fragmentation requires the right blend of technology, standards, and collaboration. In 2022, meaningful progress was made against each of these, as interoperability took center stage in our industry.
As examples, a growing number of TV programmers moved to unify their ad serving and monetization across traditional and connected TV environments, unlocking operational efficiencies and new revenue streams. The IAB Tech Lab also formally waded into the TV space, launching a new Advanced TV initiative that aims to usher in common standards for convergent TV advertising.
Moving into 2023, interoperability will remain key as the convergent TV space continues to evolve and grow.
2) AVOD services and FASTs are on the upswing as CTV ad experiences continue to improve.
One of the biggest stories in TV media this year was the launch of ad-supported streaming offerings by Disney+ and Netflix. The introduction of these new tiers by the two media giants signaled that the pendulum is swinging from SVOD to AVOD; a trend likely to continue in 2023 as services become more widely available and macroeconomic conditions cause consumers to tighten spending.
In addition to these two launches, a flood of new AVOD services hit the market and consumption of FAST services — that is, free, ad-supported streaming television — skyrocketed this year. As reported in Variety's "Life in the FAST Lane," report, FASTs have grown quite a bit in recent years, with big media companies, smart TV manufacturers, and independent players all getting in the mix. The "linear-like" nature of these services and the fact that content libraries are improving have made FASTs a compelling option for CTV viewers and, subsequently, media buyers.
Behind the screens, 2022 has also brought considerable improvement to the ad experiences within CTV environments, powered in large part by innovation in both ad tech and ad sales.
Ad loads in CTV are getting lighter. Interactive formats have emerged and are being used more readily. Advanced tools and tags, which support key considerations like proper ad pod management and metadata provisioning, have helped to clean up some of CTV's legacy faux pas. And new standards, like the OpenRTB 2.6 spec (which was released in April), have formalized protocols for transacting against ad pods and metadata, among other things.
All of these advancements have helped to make CTV media buying and selling more transparent, simple, and efficient. Continued adoption and implementation will help to further propel better ad experiences for viewers as AVOD and FAST viewing takes off.
3) TV ad sales is experiencing a last paradigm shift, with automation and unification at the forefront.
As consumption patterns and advertising strategies have changed, so too have the approaches that media owners and programmers are taking to ad sales and technology. This has largely been in two areas.
First, TV ad sales are becoming much more automated. Traditionally, TV advertising was sold on a largely direct and manual basis. Media sellers were long weary of bringing programmatic to cable and broadcast environments, missing opportunities to automate key workflows. This year in particular, major players and industry innovators leaned fully into the benefits of programmatic. Dish Media, as one example, launched their National Linear Programmatic solution in September. The offering brings real-time, automated ad sales to Dish's 7MM+ household footprint, affording advertisers a more flexible, interoperable ad buying solution.
Second, many media sellers are moving to unify their direct and programmatic sales. Within CTV advertising, programmatic has accounted for a large chunk of ad spend for the past few years. Direct efforts sat in a silo (albeit an important one). In 2022, unified decisioning technologies emerged to the forefront. The evolution and adoption of these technologies has helped programmers to better manage their direct and programmatic ad sales in unison. What's more, deal structures blending the two, such as programmatic guaranteed (PG) and private marketplaces (PMPs), have grown in usage as well.
Heading into next year, automation (of TV) and unification (of direct and programmatic) will play an increasingly-important role in the way ads are sold on CTV and TV more broadly.
What did we miss?
Drop us a line, here, if we missed any key takeaways from 2022, and if you're interested in learning more about what Beachfront has planned for 2023.