Industry Insights
Top Five Insights from 212NYC & Beachfront's Convergent TV Event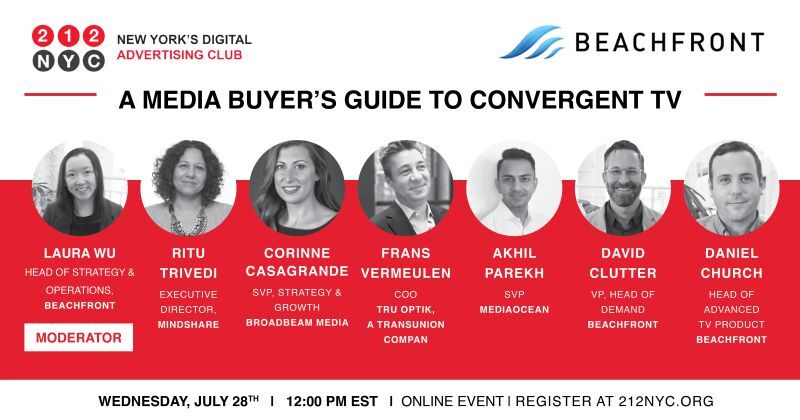 Beachfront and 212NYC teamed up to provide a "Media Buyer's Guide to Convergent TV," as the evolving TV ad ecosystem continues to pose challenges and opportunities for agencies and media buying teams.
The television ecosystem is rapidly evolving, and viewer habits are continuously changing, causing the lines between traditional and streaming TV to blur at an accelerated rate. Amid this convergence, lingering fragmentation is making it challenging for media buyers to efficiently evaluate, reach, and influence TV audiences across screens.
To help agencies and media buying teams better understand and navigate this convergence, Beachfront and 212NYC teamed up to present, "A Media Buyer's Guide to Convergent TV." The educational session began with a brief overview of the latest trends and developments in the convergent TV arena.
Following the presentation portion, our Head of Strategy and Operations, Laura Wu, moderated a lively panel featuring an esteemed group of industry visionaries, including Ritu Trivedi (Executive Director, Mindshare), Corinne Casagrande (SVP Strategy & Growth, Broadbeam), Akhil Parekh (MediaOcean SVP of Product), and Frans Vermeulen (COO, Tru Optik, a TransUnion Company).
In case you missed it, the recording is available below and here, and we've also compiled the top five takeaways from the panel to provide insight on the future of TV viewing and advertising:
1. Pay TV's resilience and CTV's growth are offering strategic advertising opportunities.
While connected TV is undoubtedly growing and becoming more than just an upfront add-on, "there's always going to be a need [for pay TV] depending on the client you're working on and depending on who they're trying to reach," noted Mindshare's Ritu Trivedi.

Headaches remain, however, as fragmenting viewership has made it very complex for buyers to piece together cross-screen campaigns. By deciphering audiences and forecasting reach across these environments in unison, agencies and media buying teams can better allocate their budgets and unlock complementary opportunities. As Mindshare's Trivedi stated, "Pay TV and connected TV are additive."
2. Linear addressable advertising is pay TV's next big frontier.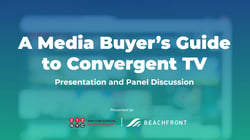 Addressable executions on linear TV are evolving from initial beta testing to a point where media buyers are beginning to invest budgets. A big reason for this is that a lot of roadblocks have been resolved, from establishing

industry standards

and

tech stacks

to improving data targeting and reporting.



And while linear addressable is near ready for primetime, more education and evangelism is needed to continue building on these exciting applications. "I think in the short term there will be a lot of education that needs to go in. People have different definitions of addressable," noted MediaOcean's Akhil Parekh.

On that note, Linear addressable TV, per

eMarketer

, refers to

"targeted TV ads delivered on a home-by-home basis via cable and satellite boxes, [including] video-on-demand (VOD) and ads delivered by dynamic ad insertion (DAI) technology from smart TVs connected to set top boxes."


3. TV has become a full-funnel marketing medium.
TV is often heralded as a vehicle for broad reach, and this in many ways remains the case today, especially with live sports and big cultural events. "Linear TV is an important component. It is kind of the last bastion of reach that we're seeing as advertisers. And just because we have to pay more for what we got last year, for maybe even less viewers, it doesn't mean that there is no value there," noted Broadbeam's Casagrande.

However, with connected TV viewing on the rise and greater use of modern ad tech in traditional environments, TV as we know it has gradually become a full-funnel marketing medium — and this is a great thing for media buyers. New opportunities are emerging to engage customers and influence audiences on the biggest screen in the home beyond traditional top-of-funnel, reach-driven buys.


4. Programmatic technology is driving the democratization of TV advertising.
With

increasing usage of programmatic technology in TV,

more brands now have the ability to invest in television advertising. This has led to a 'democratization' of TV, wherein a myriad of ad buyers can access premium TV inventory, while media sellers are now equipped to tap into a wider pool of demand, in real time.





Many of the early brands leaning into programmatic TV and CTV have a direct-to-consumer (DTC) focus. These brands have more customer data readily-available for ad personalization, benefit from self-service options that don't require upfront commitments, and "really like to make TV look digital," added Broadbeam's Casagrande.




5. Th
e future of TV ad targeting balances audience and content.
There's long been a debate (and an ebb and flow) in the advertising industry about whether audience or content targeting strategies are more effective in TV.

"Early in the days of digital advertising we were able to produce the first cookie-based retargeting [product]. That was all about moving from context to audience, and now there is a lot of news on the death of the third-party cookie," said Tru Optik's Vermeulen. "Digital identifiers are continuing to go away, or at least they will continue to change and machinate, making it harder to create those associations between devices and people. What is the response for the industry? We are back to context. What is old is new again."

With the wealth of content metadata available for transacting in TV, and a fruitful ecosystem of first- and third-party data, it's not necessarily an "or" proposition for today's media buyers. Both audience and content data add value to TV campaigns, and advertisers are set to gain advantages in developing a strategy that includes a balanced mix of each.
And that's a wrap!
If you attended the session and feel we missed some key takeaways, drop us a note here — we'd love to hear from you!
And if you missed the session and would like to watch, check out the full video below and download a complimentary copy of the slides:
Please reach out to us here, if you have any further questions or would like to learn more about convergent TV advertising.
---