Industry Insights
Key Insights from Beachfront's CTV Marketplace in H1 2023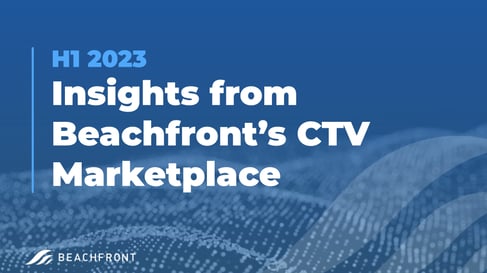 In the first half of 2023, the CTV and OTT advertising landscape was influenced by a set of key challenges, milestone moments, and new opportunities. The industry started the year surrounded by a cloud of economic uncertainty, yet amid the haziness, CTV kept growing; carving out more share during the TV ad industry's annual Upfronts while welcoming a growing number of brands and advertisers.
Digging deeper beyond these topline trends, the first six months of 2023 brought a number of interesting developments to the landscape, specifically within the programmatic ecosystem. To shed light on these trends and evolving dynamics, we've compiled key insights and datasets from Beachfront's CTV Marketplace in H1 2023.
Download your copy of the report for in-depth analysis on select areas of the CTV and OTT ad market, including a look at how:
Brands continued pouring spend into CTV amid macroeconomic uncertainty.
Improving contextual transparency has illuminated the vibrancy of the CTV advertising landscape.
Smart TVs and standalone devices have continued to rise through the ranks in the connected home.