Industry Insights
Five Takeaways From This Year's Upfronts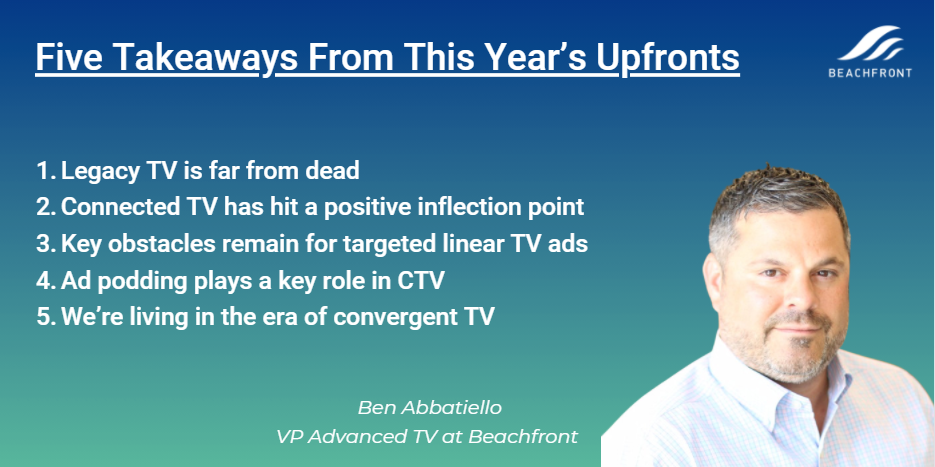 [This article originally appeared on LinkedIn, here]
Following up on 2020's upheaval, this year's upfronts looked vastly different from what we're used to. From a demand for increased ad flexibility to audience migration and an ever-growing number of AVOD players, today's TV environment has evolved in new and lasting ways.
To that effect, here are five takeaways and themes you might have heard throughout upfront (and newfront) presentations — with some insight on how our team at Beachfront is approaching them — reflecting on the past 12 months in TV:
1. Legacy TV is far from dead.
While there's a rush to throw dirt on legacy/pay TV as audiences shift to connected TV, the former actually isn't going anywhere, with a projected 60 million-plus subscribers through 2024. As Beachfront CEO Chris Maccaro recently pointed out, these legacy/pay TV environments can't be ignored if innovations like addressable ads are going to scale.
The pandemic upended traditional ways of doing business in TV, and networks, cable companies, and streaming platforms alike are all leaning further into technology and automation. Arming those groups with strategic, modern programmatic tools is a key initiative Beachfront is focused on, aiming to deliver better value and flexibility to our partners. A premium entertainment and viewing experience is currency for brands and audiences alike, so we're constantly trying to connect those disparate TV environments as seamlessly as possible, especially as high-frequency ad trading comes to TV.
2. Connected TV hit a positive inflection point.
In the last year, the industry has begun solving for difficult problems like addressability and scale in TV, and the growth has been rewarding. But even more importantly, connected TV is starting to garner more exposure to larger TV ad budgets as the underlying infrastructure improves.
With heightened focus on the viewer, and the exchange of content metadata, we're working to improve on this growth by delivering better, more relevant ad experiences. The server-side revolution has also quietly taken place behind the scenes, refining those mechanics and further distancing CTV from the dated client-side approach that was commonly (and historically) misused in these environments.
3. Key obstacles remain when it comes to targeted linear TV ads.
Increased streaming has made it even more imperative for networks to deliver targeted linear ads, and to drive interoperability across traditional and connected TV environments. Doing so is easier said than done, however, as there are multitude of challenges facing media owners.
For one programmer, the biggest hurdle might be a dated master broadcast system that doesn't allow for signaling, while for another it might be that their sales efforts are weighted heavily on ratings. Most media rights have been clearly outlined to a degree so that part of the discussion has less friction for both network and distribution (MVPD) partners. At Beachfront, we seek to uphold the value of their product and relationships, and open new sales channels without incurring additional cost in doing so.
With all of that in mind, one big challenge often is the debate between multiple ad spot optimization (MASO) vs. starting with single advertising spot optimization (SASO), when considering a linear execution. The former requires more experience with high-frequency ad trading, but can unlock a number of benefits for programmers and networks.
4. Ad podding plays a key role in CTV.
Up until very recently, ad breaks in CTV were very static and dependent on the device, however this is no longer the case with our Unified Decisioning engine, which supports advanced ad podding. The technology allows our partners to more harmoniously manage ad placements and slots across entire commercial breaks, regardless of where and how a user might be consuming their content. This can be done manually or dynamically, as a pre-roll in only one position or across an entire break.
Delivering pods that adhere to brand rules such as competitive separation, deduping, QPS costs, and more are crucial for programmers. Just nine months ago, that could not play out in unison dynamically across OTT, a smart TV, and a live linear broadcast. Now, for our partners, it's a reality.
5. We're living in the era of convergent TV
Convergent TV is top of mind for many in the industry, and we expect it's a term you'll hear a lot this year and beyond. If you aren't familiar, convergent TV refers to the increasingly overlapping and intersecting forms of programming, advertising, and technology deployed in both emergent and traditional TV environments -- including Connected TV, national addressable television, set-top box VOD and set-top box linear.
Though "convergent TV" has been around for a while, the term has seen a real surge over the last year. In the past, terms like "total TV" have been utilized, but they also fell flat because of the obvious gaps for VOD, STB, and live linear in programmatic circles (at the time).
Decades later, the term convergent TV rings truer than ever given the multi-platform and multi-tech approach it encompasses. Those best equipped to manage these disparate environments and the ad inventory on them as the same are in a far better position going forward.
What did I miss?
If you're interested in learning more about the work Beachfront is doing on these fronts, drop me a note or visit us at beachfront.com