Industry Insights
Bridging the Gap: Unifying Linear & CTV Ad Buying with Viant's Kara Henderson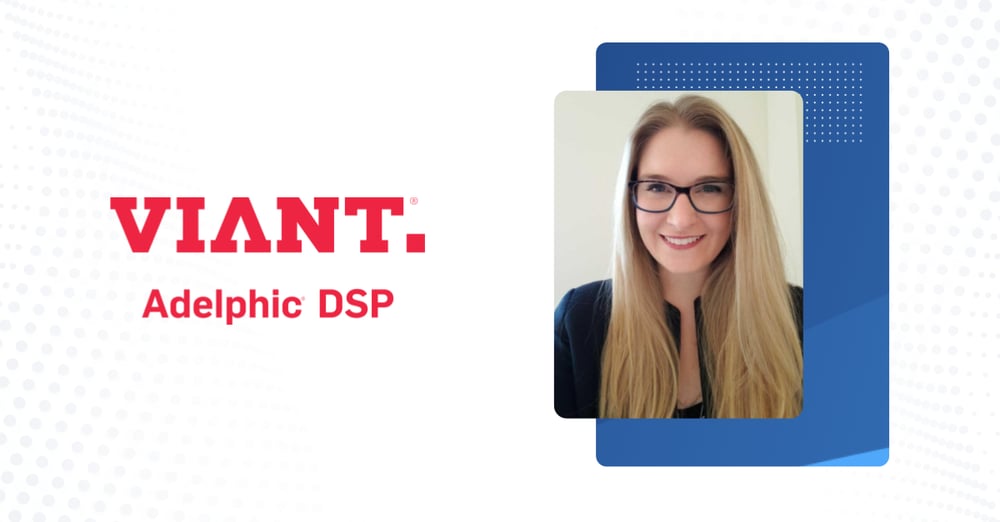 "Irrespective of the viewing platform, media buyers are looking for ease-of-use, interoperability and relevancy when strategically reaching their target consumers" - Kara Henderson
Over the past 18 months, the TV advertising industry has experienced a tremendous amount of transformation, perhaps exceeding (in magnitude) the gradual developments that transpired throughout the late 2000's and 2010's. Upfronts are waning, streaming consumption is through the roof, and the traditional ways of buying and selling TV media have evolved dramatically.
However, in the middle of all this change, comes opportunity. And for media buyers and programmatic traders, that opportunity increasingly lies in simple execution of cross-screen TV campaigns in a speedier and more scalable fashion than before.
One example of how we're looking to support this emerging need is through a partnership formed by Beachfront and Viant to scale real-time, programmatic buying of linear and connected TV in Viant's Adelphic® advertising software. In addition to bridging the gap between disparate TV environments, the partnership will help programmatic traders who use Adelphic enhance their TV ad buying and to deliver campaigns alongside premium TV shows.
We spoke with Viant's Sr. Inventory Partner Manager, Kara Henderson, to unpack this exciting partnership in greater detail. Henderson currently manages relationships across Viant's various supply integrations and is the linear supply lead on the Media Strategy and Investment team.
Given all of the recent changes in TV advertising, what are you hearing most frequently from your media buying partners?
Fragmentation of platforms is causing a lot of headaches, so we're looking to help solve for our clients in this area. Streaming has certainly grown within the last two years, but linear TV still affords brands tremendous reach. It's challenging for brands to plan, execute, and measure TV campaigns, which ultimately leads to issues identifying and building relationships with current and prospective customers.
What's needed to bridge the gap between linear and connected TV environments?
Interoperability across TV viewing environments and platforms is critical and something media buyers are demanding more often. Connected TV (CTV) has historically been viewed as an "add-on" to traditional linear campaigns, but with increasing interest in CTV, both platforms are now on equal footing to some degree.
It's all one simple TV screen to the consumer, whether the content is delivered via the internet or a cable box. We must make it equally as simple for media buyers to strategically reach these consumers, irrespective of the viewing platform. This is what excites me about our partnership with Beachfront.
How does the Viant and Beachfront partnership solve for these challenges, and how will Adelphic clients benefit?
With this partnership, we're bringing Beachfront's premium linear and connected TV inventory into our Adelphic omnichannel DSP, effectively enabling it for real-time, programmatic buying. This means that Adelphic clients can automate their ad buying and reporting through a single platform, instead of having to stitch together disparate buys.
What's really exciting is that Beachfront works closely with some of the biggest names in TV media, so our partners can now deliver their campaigns alongside more premium programming, live events, and shows that we all watch and love.
What else makes Viant's partnership with Beachfront unique and exciting?
In addition to solving pressing fragmentation challenges, there are two things that we're excited most about that make this partnership really stand-out for Adelphic clients:
The acceleration of TV ad activation, and
The democratization of TV advertising
The way traditional TV ads are bought and sold today is a remarkably arduous process that can take at best, weeks, and at worst, months. Beachfront's unique technology brings real-time bidding to traditional environments, cutting down linear TV ad activation time to a matter of hours. So, media buyers can get a TV campaign live faster than ever before. Additionally, we're making TV advertising inventory more accessible to a much wider set of brands through this technology, which is exciting.
As TV ad inventory becomes more accessible, what kind of brands should (or are) lean(ing) in?
With these advancements in TV ad tech, there are opportunities for brands of all sizes to jump into television advertising. TV is no longer just a vehicle for broad reach, accessible to a select group of national brands. There are new opportunities to use the power of TV -- with it's sight, sound, and motion, and lean-back programming -- to influence consumers at all levels of the marketing funnel.
Viant has been razor-focused on building a new standard in media buying — for the New, Open, Web. What does this mean exactly, and how does it tie into CTV advertising?
The New Open Web is the new way forward for the advertising ecosystem. A world that works for everyone – marketers and consumers alike. Where consumers have the privacy and transparency they deserve and marketers can reach and connect with their customers in new and different ways. It's a more transparent internet where the full potential of digital marketing can finally be realized for all, and Viant is leading the way.
The New Open Web allows for better consumer experiences, ensuring people won't be overwhelmed with invasive, repetitive, or irrelevant messages. At the same time, it ensures marketers can understand the effectiveness of their media spend by understanding whether their ads are having the desired effect.
Connected TV is a potent portal into the New Open Web. For marketers, it can merge the power of video storytelling and with that aforementioned audience understanding. Now, marketers can engage audiences emotionally in a way they can only accomplish with the sights and sounds of TV while knowing with confidence that their ads are performing.
Interested in learning more about how Viant and Beachfront can help you scale real-time programmatic buying of linear and connected TV? Reach out to us here.
---