Beachfront News
Life at Beachfront: Account Manager Riley Mulhall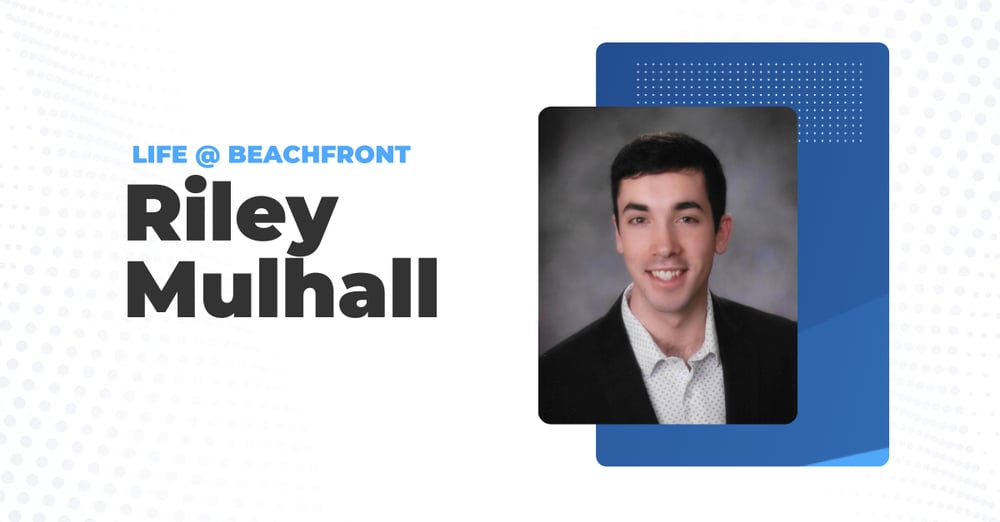 The second installment of our "Life at Beachfront" Series features Account Manager and Adventurer, Riley Mulhall
The "Life at Beachfront" Series provides an inside look into what it's like working at Beachfront, through the eyes of our fantastic colleagues and teammates.
Today's featured team member is Riley Mulhall, an Account Manager on the Demand Partnerships team. In his role, Riley works closely with Beachfront's demand-side partners, with a particular focus on supporting connected TV and online video media buying. He is currently watching Stanley Kubrick's Collection, and in his free time he enjoys the outdoors and music.
Here's more on Life at Beachfront from Riley:
What is it like working on Beachfront's Account Management team, and what is your favorite part?
The best part of being a member of the Account Management team at Beachfront is a two-parter. First, the collaboration. Being that we are a lean and agile team, a lot of the work we accomplish is applicable across the business, allowing us to synergize and work better together. The next would be our position within the organization. I feel that the work we do as Demand Account Managers is critical to the business, and we help work and integrate things from the 'ground up'.
What makes Beachfront's Account Management team different from other companies?
I feel a sense of connectedness across multiple facets of the business that I have not previously experienced. Demand Account Managers here at Beachfront can expect collaborative projects and discussions with other teams within the organization, and see the impacts of their work, day in and day out.
What do you enjoy most about Beachfront as a company?
Outside of a nice working environment — with great people (who care) and a sense of healthy work/life balance — I enjoy the lack of red tape between different teams within the organization. There is a constant and free flow of information available between teams.
What is the most exciting project you've worked on during your time at Beachfront?
Now that I've settled into my role (having recently joined the company), I am becoming a more familiar face, and have been able to dig into managing a book of demand-side partners. This was what brought me to this organization, and thus far it has presented a lot of new and exciting opportunities week-to-week.
How do you continue to learn in order to keep up with the ever-changing media and advertising industry?
I stay current on industry news and initiatives by reading AdTech forums and articles. We also have multiple weekly touch points, where we discuss different topics with other teams within the organization. We usually share knowledge, learnings, and industry trends within these meetings.
What is one important lesson you've learned in your career?
There are a few, but one that I hold near is to be a team player. Being able to provide a helping hand, when necessary, can go a long way into shaping your career. It not only brings new perspectives and ideas to the forefront, but also can lead you to new curiosities and interests.
If you could live anywhere in the world, where would you live?
I consider myself a simple man. Somewhere in the mountains or the beach. I'm not too picky on a specific location, but to have one …or both… of those would be nice.
---
Interested in learning more about Beachfront and joining our team? Explore new career opportunities here: